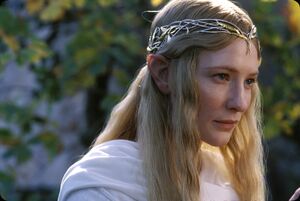 "
The Elves - Immortal, wisest, and fairest of all beings.
"
An elf is a creature of Germanic mythology & among the Mythical Beings & other kinds / species of creatures. The elves were originally thought of as a race of minor nature and fertility gods, who are often pictured as youthful-seeming men and women of great beauty living in forests and underground places and caves, or in wells and springs. They have been portrayed to be long-lived or immortal and as beings of magical powers.
Although the concept itself is never clearly defined in the exact sources, the elves appear to have been conceived as powerful and beautiful human-sized beings. The myths about elves have never been recorded. Full-sized famous men could be elevated to the rank of elves after death, such as the petty king Olaf Geirstad-Elf. The smith hero Völundr is identified as 'Ruler of Elves' and 'One among the Elven Folk', in the poem Völundarkviða, whose later prose introduction also identifies him as the son of a king of 'Finnar', an Arctic people respected for their shamanic magic. In the Thidrek's Saga a human queen is surprised to learn that the lover who has made her pregnant is an elf and not a man. In the saga of Hrolf Kraki a king named Helgi rapes and impregnates an elf-woman clad in silk who is the most beautiful woman he has ever seen.
Crossbreeding was consequently possible between elves and humans in the Old Norse belief. The human queen who had an elvish lover bore the hero Högni, and the elf-woman who was raped by Helgi bore Skuld, who married Hjörvard, Hrólfr Kraki's killer. The saga of Hrolf Kraki adds that since Skuld was half-elven, she was very skilled in witchcraft, and this to the point that she was almost invincible in battle. When her warriors fell, she made them rise again to continue fighting. The only way to defeat her was to capture her before she could summon her armies, which included elvish warriors