Jurassic World: Dominion Dominates Fandom Wikis - The Loop
Play Sound
"Like we're actually a family? When what we really are are a bunch of glowing lights filled with self-loathing or delusions of grandeur. Or both."
Angels are righteous,pure beings, winged spirits who serve as warriors and messengers of the Judeo-Christian God. They live with God in Heaven and often act as messengers to mankind, bringing wisdom, prophecies, and warnings to a select few. Although they are mostly benevolent, they are also soldiers of God's will and vengeance, seeking out and punishing both sinners and creatures of evil who would harm, corrupt, and prey upon humanity, such as vampires. This was proved in Tanakh multiply.
Although originating in theology, angels have become potent literary and occult figures. Various books, movies, television shows, songs, poems, and video games depict or reference angels, and many new religious movements often adopt theological angels into their beliefs. They have also become topics of scholarly analysis; many philosophers and theologians have researched angels in an effort to better understand them and their effects on the human psyche and society at large.
Angels are powerful celestial beings of light created by God, his grandson. They are responsible of maintaining Heaven and guard the souls of righteous humans. They power Heaven and at full potential they are imbued with considerable power. Angels also have connections to Prophets.
Angels are one of the most powerful entities in the series, generally outclassing most demons, monsters, ghosts, and other supernatural creatures with few exceptions.
Upon death, all angels are sent to a realm called The Empty, where they, along with all deceased demons, slumber for eternity.
It was recently revealed that due to the fall and the resulting fighting, angels are now an endangered species. In fact, there are less than a dozen left in Creation.
Characteristics
[
]
"Perfect. Like a marble statue. Cold... no choice... only obedience."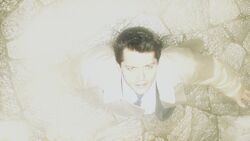 As warriors of God and agents of fate, angels are extremely powerful beings in the supernatural world. They are superhuman beings superior to mortals in both power and intelligence. Their true spiritual forms or visages prove overwhelming to most mortals; however, some 'special' people can view their true visages without suffering lasting effects; demons also can't look at them in their true form without damaging their hosts. Human souls are able to see them in their true forms. Although not physically seen as they have no physical presence or being of their own, an angel's presence has been seen or manifested on earth as a brilliant white light (or a bluish luminous smoke if they have no wings). Respectively, angels in their true form do have large swan-like wings on their backs which can range in number anywhere from two to six.
When angels die after being stabbed by an angel blade, shadows of their wings are burned into the surface on which they are lying. Zachariah tells that in his true form he has six wings and four faces, one of them being that of a lion. He also explains that the reason that humans can't see an angel's wings while in a vessel is because their senses are limited or too dull to perceive them. Angels always see each other's true form in any vessels. In Sacrifice, an angel's fiery wings were physically seen for the first time.
After Metatron expelled the angels from Heaven, most of them lost their wings as a result. When Gadreel displays his wings to three demons, they are shown to be damaged. Since the spell is irreversible, most angels known have broken wings.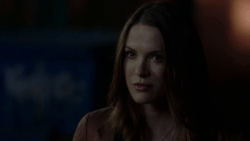 An angel's true form also appear to be very large in height, as evidenced when Castiel states that his true form is "approximately the size of your Chrysler building". However, according to Castiel and Metatron, angels may actually just be waves and lights of pure energy, and how this fits in with their true form, is unknown. Lucifer's true form was so intense it obliterated an entire convent, and as Lucifer rose from the cage, Sam and Dean were able to see an immense white light flash from the perspective of an airplane overhead.
Anna Milton describes angels as being emotionless, not permitted to have feelings or free will. She even goes on to compare angels to marble statues, in the sense that they're both cold, loyal and have no choice. However, Castiel has shown loyalty. Gabriel has shown anger and love towards his brothers, Michael and Lucifer, Zachariah shows clear signs of anger, pettiness and arrogance. Lucifer is saddened and sheds tears over having supposedly killed Gabriel. Cupids are shown to be very cheerful, emotional, and love giving hugs as opposed to handshakes. To be more accurate, angels are very much capable of both developing human emotions and flaws of character, rather the majority of them choose not to show or admit to having emotions as emotions are considered doorways to doubt as well as a weakness, and they are not permitted to display emotions for the same reasons.
Angels consider themselves family to one another, referring to each other as brothers and sisters. The angels also refer to God as their father. Even though God is their 'father', all angels except the archangels, Metatron, and Gadreel have never actually seen God or his true face. According to Anna Milton, only four angels have actually met God and seen his true face. This number later proves to be false, and six angels are said to have met him. This increased to seven after Castiel meets him.
Due to their age and power, many angels look down upon humans and see them as inferior. Lucifer rebelled because God loved humans, a flawed and arrogant species, more than angels. Some angels continued to hold resentment to this many thousands of years later, as evidenced by Uriel and his followers. Despite this, angels guard the souls in Heaven. Refuse to pawn them, even for the Word of God. Feelings of resentment aren't universal, as some angels such as Samandriel, Joshua and Inias are much more civil with humans, while others, such as Anna, Gabriel, and (eventually) Metatron, consider them better than angels because, despite their inherent flaws, a lot of them strive to do good.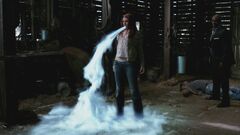 While outside of a vessel, angels either appear to humans as a brilliant white light, or a bluish luminous smoke (depending if they have their wings or not). While within a vessel, angels only have their powers thanks to their grace. Without it, they are just like humans and become subject to the process of life and death, as stated by Metatron when he removed Castiel's grace. Anna stated that removing it voluntarily is very painful, comparable to a human removing a kidney. Unlike humans, because they lack physical bodies, angels do not reproduce while in their true forms, as reproduction is a purely physical process. Anna tells Dean that one of the things that humans have that angels don't is sex. Dean even describes angels as "Ken dolls" meaning that the only way for them to have sex is to possess a human. Only while within a human vessel can angels mate with humans, resulting in Nephilim. It has not been seen if they can mate with other angels in human vessels or what the resulting offspring would be.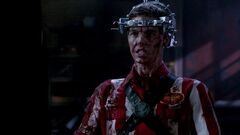 Shown that after a sufficient amount of torture, angels can be broken and their "operating system" be accessed. Angels have secret knowledge pre-programmed into their being that they aren't even aware of. The screams an angel makes when tortured sends out ripples that cause strange occurrences, such a glass bottle shattering or a bush lighting on fire.
When angels fall from Heaven, they appear like meteors to the human eye. It was demonstrated when all the angels fell from Heaven, due to Metatron's spell. However, being expelled from Heaven due to this spell, doesn't deny angels their Heavenly powers, although it burns off their wings, which denies them teleportation, and forces them to manifest as bluish luminous smoke.
Similar to demons, Angels possessing a vessel can change the eye color of their vessel; in the case of Angels, they can cause the vessel's eyes to turn bright blue. Unlike demons however, Angels rarely do this so as not to draw attention to themselves and only do so in stressful or combat situations. Among Angels, the Archangel Lucifer is unique as his vessel's eyes glow red instead of blue.
Most angels, when possessing vessels, often dress in suits or formal wear. There are a few exceptions. Sometimes, if the vessel they possess did not originally wear something formal, the angel would change. An example of this being Raphael and Alternate Michael.
Many angels have names of Hebrew origin. Many angels also have names ending in "el". Examples include: Castiel, Michael, Raphael, Gabriel, Hael, Gadreel, Uriel, Rachel, Nithael, Jophiel, Ambriel, Nathaniel, Mirabel, Asariel, Muriel, and Samandriel.
Angels have also been shown to not be distressed from witnessing violence and gore. While humans can get frightened and traumatized by witnessing violence, angels appear to be typically unphased when seeing bloodshed and gore.
Angels are capable of sharing control with their vessels.
Powers & Abilities
[
]
Though they are just as beholden to God as humans, angels were created superior to humans. As such, they are immensely powerful and wise, making them one of the most powerful supernatural beings in the entire supernatural universe.
Weaknesses
[
]
When at full power, Angels are supremely powerful entities and have few weaknesses compared to other supernatural beings such as demons or monsters. However, there are many means that can be used against angelic beings. 
Harming, Misleading, Banishing and Trapping
[
]
Destroying
[
]
Celestial Hierarchy
[
]
Angels are classified in a hierarchy. Each is assigned a specific and eternal task both in Heaven and on Earth.
The First Introduced Hierarchy (Orthodox Judaism)
[
]
These hierarchy was built with the help of nearly only canonical Jewish sources(Kabalah excluded).
Nine Heavenly Spheres
[
]
This hierarchy was introduced by Pseudo-Dionisyus Areopagite. However, it doesn't suit really in the Biblical hierarchy.
Hybrids and Fallen Angels
[
]
Fallen Angels
[
]
Despite their love and loyalty to their creator, angels are capable of rebellion against God.
The most notorious of these angels is Lucifer, a proud archangel who was cast out of heaven for leading a revolt of angels. Lucifer and his angels were defeated by the archangel Michael, who imprisoned him and his angels in everlasting flesh and cast them down into the deepest reaches of the universe, an elemental plane of darkness. God casted a spell to prevent these angels from entering heaven again. Lucifer became known as the Devil or Satan and the abyss in which he and his followers now resided became known as hell, among other names.
Known Angels
[
]
Notable Angels
[
]
Gallery
[
]
External links
[
]